Ok look, let's just say you're going to inherit $100,000 from your parents. If they give you the money and
then you put it into trust, your trust doesn't get the benefit of a spendthrift clause. Your trust is pierceable. Typical estate planning trust that can sometimes become a permanent after death oftentimes will give the beneficiary spendthrift provision, spendthrift protection if done correctly. It doesn't work if you get the money out of trust. So, what do you do?
You always make sure that if you're going to give somebody money, or if your parents are somebody who's going to give you money; that they put it into trust and then allow you to become the trustee of your own trust when they die or when they want to make the gift. Rather than giving it to you outright and having you put into trust thereby making it so you can't advantage of the spendthrift clause protection.
If they put it into a trust first and you just become trustee over your own trust, you're double protected. You get the benefit of a spendthrift protection. I would be out of business. People would not need to do asset protection planning except in rare cases if everybody who willed or gave, excuse me, anybody who gave anybody any money, did so in trust and simply made the person to whom they're giving the assets the trustee of this trust.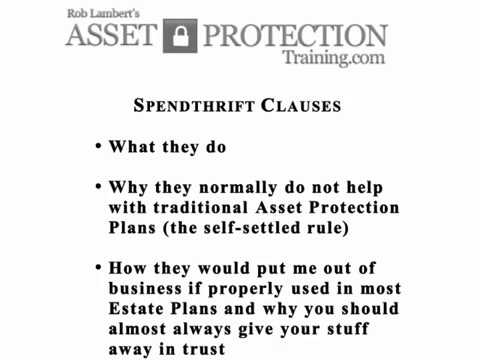 Now, I'm going to show you a sample clause, a very very simple one. This is a typical spendthrift clause. Let me read part of it to you. No discretionary beneficiary of this trust, including but not limited to the settlor, shall have the power to anticipate transfer, sell, basically, give the stuff away or encumber any payment or distribution of either principal or income. This is a lot of words.
I'll let you see the whole thing. You can read it carefully on your own, but basically it says that your creditors are out of luck if they want to take any of the assets held in trust from you, very powerful provision.
I once saw a guy put a lot of money in trust for his teenage children. The oldest child went and bought a $400,000 Ferrari by promising the Ferrari dealer a portion of the proceeds he had in trust and proved that he had it in the trust. He took delivery of it and my client basically said, you're not getting any money. The Ferrari dealer didn't get paid.
My client's son got to keep his money and that's how it works. It basically disenfranchises creditors, and thank God for me because I wouldn't have any asset protection work to do. Thank God for me. Most of you don't take advantage of this when you will or giving the assets away – it doesn't really work by will so well because you have to actually put into trust, but don't forget the incredible power of the spendthrift clause.
You should put them in all asset protection trusts even though they don't benefit you. If the trust is done correctly, it will benefit your beneficiaries, the people that survive you. They will have double protection, both from the asset protection aspects of the trust, and because of this simple little 150-word spendthrift clause. Don't ever forget it. It's a good thing to know about.